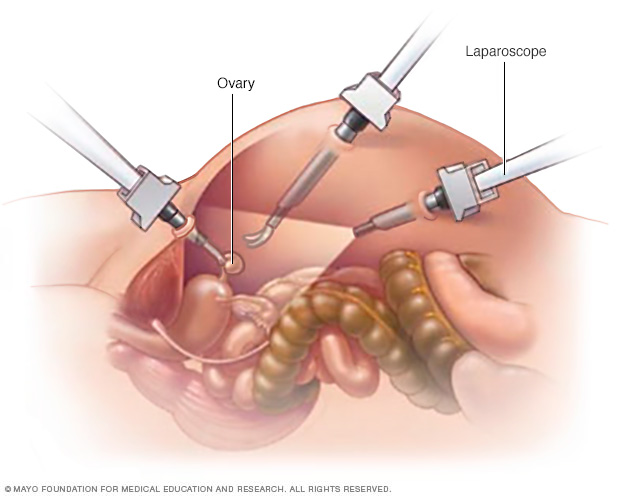 Laparoscopy Surgery in India is an advanced and modern surgical technique where your surgeon will perform the operation in your abdomen through small incisions which are around 0.5–1.5 cm as compared to the larger incisions which are required in laparotomy. By using the Laparoscopy in India your surgeon can directly view your ovaries, outside of the tubes and uterus. The laparoscopy is an instrument which looks like a miniature telescope with a fiber optic system which brings light into your abdomen.
Precautions to be taken before Laparoscopy Surgery in India
Your surgeon will advise you not to eat or drink anything for a specific time before your Laparoscopy Surgery in India. They will also recommend some tests to be done before you proceed with your procedure, to ensure the safety of anesthesia. According to study, if the women are young and healthy then these tests are usually not required. Laparoscopy in Mumbai is done under general anesthesia so that you will not feel or experience any discomfort during the procedure.
Procedure of Laparoscopy in India
The surgeons at Laparoscopic Hospital in India will perform the Laparoscopy Surgery in India by using a small 1/2 inch cut which is made in your skin at your belly button. Then your surgeon will insert a thin tube between the muscle fibers without cutting any of the muscle. By using the thin tube, the laparoscope is inserted into your body which is equipped with a tiny camera and light which allows sending the images through a fiber-optic cord to a television monitor. This television monitor will show a high resolution magnified image. By watching on the monitor your surgeon will perform the Laparoscopy Surgery in India procedure.
If there is any disease which is affecting these than your surgeon will look for endometriosis and tubercles. In case your surgeon will found any abnormalities then they will try to correct them. Your surgeon will then inject the blue dye through your uterus and fallopian tubes to check whether your tubes are open or not. After the completion of the Laparoscopy Surgery in India, your surgeon will remove the gas and one or two stitches inserted to close the incisions.
Laparoscopic Hospital in India
The Laparoscopic Hospital in India has highly trained laparoscopic surgeons who are using the latest and advanced technology and they are experts in patient care by offering them most comfortable and pleasant stay in the Laparoscopic Hospital in India during your entire journey. They also provide you the high-quality Laparoscopy Surgery in India and that too at affordable cost.
Laparoscopy Cost in Mumbai
India is a country which offers you the best and affordable Laparoscopy Cost in Mumbai which can be easily afforded by the people from Western countries as the cost of the laparoscopy procedure in Western countries is very expensive as compared to India.